Tt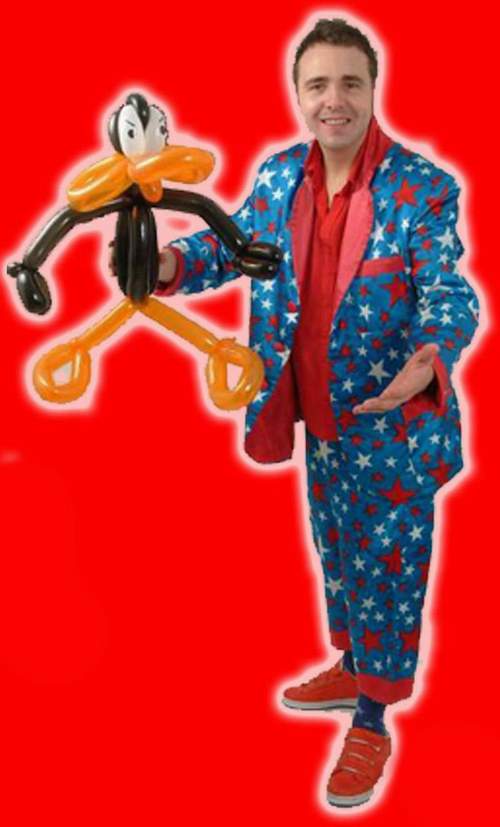 Balloon Modelling & Twisting is the ideal entertainment at Corporate Events, Fundays, Fete's, Store Promotions, Birthday Parties ect...
The Balloon Modeller will mix 'n' mingle around your venue,event or Guests making some truly amazing balloon model creations for everyone.
This entertainment can also be booked as a themed character if you have a themed event, which adds that extra prestige to your occasion.
Silly Scott can make a wide array of balloon modelling sculptures, such as Poodles, Reindeers, Penguins, Snowmen, Monkeys on Trees, Flowers, Rabbits, Space Lazers, Swords, Turtles, Ladybird bracelets, Teddy Bears, Snakes, Ponys and many more including Hats, and well known Cartoon and TV characters.
Balloon Modelling also pairs fantastic with Face Painting, as this can entertain the children who are waiting to get their face painted or maybe queing for any other reason, eg Santa's Grotto ect.
Silly Scott uses a professional balloon modelling belt while balloon twisting, which carries all his balloons and enables the children/adults to see and choose from all the fantastic colours he has to offer.
" I would thoroughly recommend Silly Scott's Balloon Modelling services. He was easy and great to deal with.
He provided us with all the relevant paperwork promptly, and had a brilliant repore with all the Children.
It was nice to see queues of children waiting to have a balloon sculpture created for them, for which Scott did quickly
and professionally. We will definitely be using Scott again at WestQuay. "

Gina Picariello - Marketing Co-ordinator WestQuay Southampton
" We have frequently used Silly Scott and his team for our school holiday entertainment programme.
He brought a fun and energetic atmosphere to IKEA Southampton and smiles to the faces of all of our mini customers.
We would thoroughly recommend Silly Scott to anyone wishing to bring first class entertainment to their venue or event. "

Hannah Pringle - Local Communications Specialist , IKEA Southampton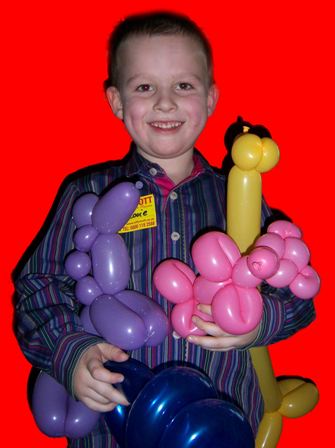 BALLOON MODELLING FOR CORPORATE EVENTS
As you can see from the fantastic references above, Silly Scott has been a key factor to the success of these company events.
Balloon modelling is a great way to spice up any type of event you may have, and Scott can cater his skills to your needs.
Balloon Modelling is excellent for Store Promotions, Family Fun Days, School Fetes, Corporate Events, Charity Functions, Shopping Centres, Garden Centres, Theme Parks, Tourist Attractions.
So give Scott a call now, and find out how he can help turn your event or special occasion into a real success.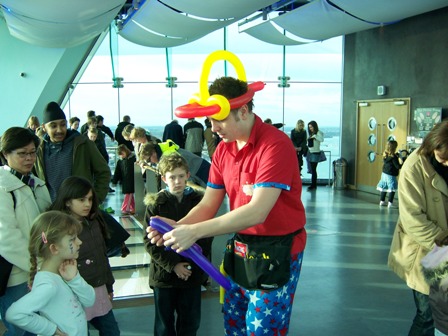 " Every year Birdworld holds event days which are key to running a successful business. When it came to the time to find an entertainer to attend our fun days we chose Silly Scott as the feedback from previous clients was fantastic!

What a great decision we made, because Silly Scott met and exceeded our expectations and his energy throughout his performance even wore me out. Not only was Silly Scott rather silly as promised but great fun and the kids/parents loved him. He is organised, creative and reliable which is what we needed.
I would highly recommend Silly Scott for anyone who would like to make a booking (as long as its not on the same days we need him because we hope he will work with us for many years to come. "
Catherine Bristow - Events and Entertainments Co-ordinator Birdworld, Farnham
Scott is a full time children's entertainer and Balloon Modeller in Portsmouth, Hampshire, available for face painting in Southampton, balloon modelling in Hampshire, magic shows in Dorset, children's entertainment in Berkshire, children's parties in Wiltshire, magic in West Sussex, wedding entertainment in Surrey and childrens magic party shows Hampshire and the south east of England.