CHRISTMAS FACE PAINTING & TATTOO STAMPS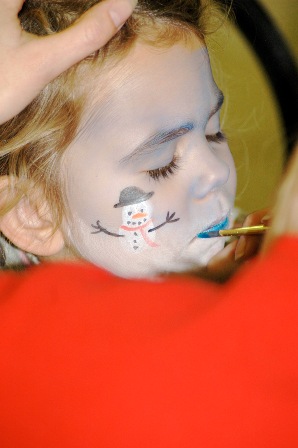 Children love to have their face painted, even more so around this special time of the year.
Silly Scott is proud to have an amazing team of talented professional face painters ready to help make your Christmas event stand out and make it that little bit more special.
Each one of Silly Scott's face painting team have been professionally trained and boasts a full face paint training coarse certificate. So when you hire one of Silly Scott's face painters you can relax knowing you will only get a fulltime professional face painter, who is also dressed smart with Silly Scott logoed t-shirts or fleece. All of the face painters hold a full public liability insurance and a current CRB police check certificate.
The Face paints used by Silly Scotts team are either Snazzaroo or Grimas paints, which are all EU approved and do not contain any lead.

For busy shopping Centres, Garden Centres or big events were there would be large crowds, tattoo stamps are much more effective. This enables faster turn around and less queue waiting. The tattoo stamps are pressed into a black solid face paint block and then can be tranfered onto the cheek, arm or hand and coloured using the normal face paints, they are easily removed using a baby wipe.

CALL NOW TO BOOK FACE PAINTING OR TATTOO STAMPS FOR YOUR CHRISTMAS EVENT OR PARTY