t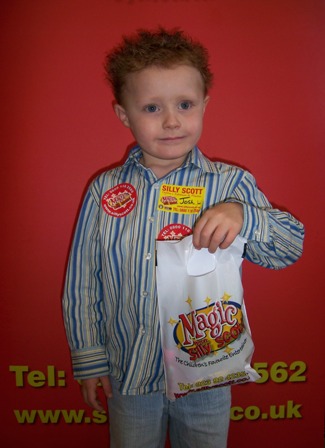 Why not sit back and let Silly Scott do your party bags for you, this exclusive offer is only for customers who book their entertainment with Silly Scott.
As Silly Scott gets all of his items at trade prices and buys in bulk, he is able to make a party bag which you cannot make for the same low price.
Silly Scott's party bags are filled with a packet of Haribo starmix, a packet
of Rainbow Drops, Cool Funky Glasses/Sun Glasses, Silly Scott branded Balloon, Sealed Bubbles pot and Bubble Wand, Silly Scott Flyer all in a high quality Silly Scott branded Loot Bag.
There are some major advantages in having Silly Scott's Party Bags
1. You dont have to scour the shops for hours buying & deciding what to put in them.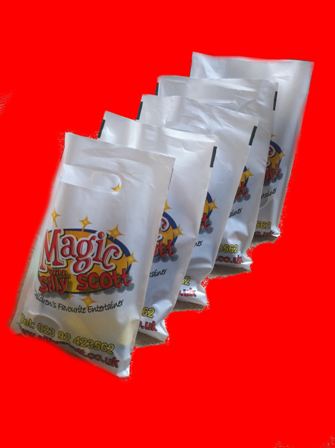 2. You don't have to buy extra packets of items, because they don't have the right number of items in them.
3. You don't have to sit there for hours breaking open all the packaging and then make up the Party Bags.
4. You only pay for what you use on the day, so your not stuck with extra bags if guests don't turn up, which also saves you money.
Silly Scott's Party Bags are priced at an amazingly low price of just £1.50 each
" Hi Scott,
We just wanted to say a massive Thank You to you for a fantastic party yesterday. Kahlen and her friends had a wonderful time.
The only regret we have is that we didn't have your party bags because that felt the most stressful bit on the day,
matching bags with children! You clearly love your job and you made our little girl's birthday very very special! You will definitely be highly recommended.

We hope to see you and your show again! Thanks again "

From Nikki, Gary and Kahlen, Surrey